Yesterday, I attended an O'Snap Seminar where I learned even more about this incredible nutritional product! I've become a Brand Ambassador. It only takes $300.00 to sign up and when you sign others, you make money. Your product gets paid for and then some. The Company is only one year old and the products sell themselves. I feel so healthy! I love all four products SLEEP helps at night, but the REVERSE and the COMPLETE are my favorites. SURGE is a great energy boost too for daily, morning and afternoon energy.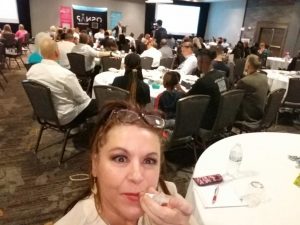 Now, you can make money on straight retail sales but recurring monthly sales and Brand Ambassador sign ups brings in the big bucks. Sign up at the following link and trust me, you can earn $$$$$ from home. https://osnap.com/misskristin
This product sells itself!
I recommend getting in early. (now) because being in at early stages means more potential earnings for you.
  Most of all you are getting a great product to help you stay energetic, youthful and vibrant.
  You will feel great!
Go for it and see.
You will never regret it because if you take supllements, you are already spending a money on products that do not absorb as well. Pic is of me trying the new Espresso Surge. Amazing. Tastes just like a shot of Delicious Espresso but its vitamins with no added sugars. 😀